4 Astounding Nature Activities to Do in Launceston
Recognized for its century-old parks, best preserved cityscapes, as well as vibrant hub for wine and food, Launceston is a one-of-a-kind travel destination in the world. It is Tasmania's second major city and one of Australia's oldest cities. Featuring lovely scenic highlights, charming old towns, and diverse culture, you will definitely enjoy an ultimate travel experience in this city.
Spending your time in Launceston is such a good idea, because there are plenty of attractions to see and activities to do while here. You and your loved ones will absolutely have fun and create happy memories together. And to make it extra memorable, avoid the hassle and stress of taking a public transportation by booking a car rental. Check out DriveNow car hire in Launceston or search online to find the best rental company. Hiring a car would help you explore the city in a fast, safe and convenient way.
Once you have a car, check the list below to know some nature activities you must do when in Launceston:
Check out the Narawntapu National Park
All nature lovers will definitely be delighted to see the Narawntapu National Park in the central north coast of Tasmania. It boasts an extensive range of animals, including Bennetts, Forester kangaroos, wallabies, wombats, and Tasmanian devils. In addition, it offers various talks, walk programs, and other interesting activities made for both kids and adults. You will also find lagoons, dunes, small islands, inlets, and a wide array of plants and animals here.
Explore the Tamar Island Wetlands
Make sure to visit Tamar Island Wetlands when in Launceston! This nature preserve is just a 10-minute drive from the city center, which features a bird observation area and an interpretation center. You will be able to learn about the history of the Tamar River, resident wildlife, and wetlands ecosystems while here. Moreover, you can walk around the boardwalks and witness the natural beauty of Tamar River.
Stroll around Launceston City Park
Take a walk around the Launceston City Park and be one with nature. Just located at the heart of Launceston, this tranquil oasis takes pride on its glorious botanic feature. Every visitor will appreciate this park as it also offers gorgeous old homes, deciduous trees, as well as some bodies of water. Surely, it will be a worthwhile day visiting this park with family or friends.
Visit Cataract Gorge Reserve
Never miss the chance to visit Cataract Gorge Reserve, or locally known as Gorge. This natural formation includes Victorian garden known as Cliff Grounds on the northern side and a café and swimming pool on the southern part. Since it is just a two-minute drive from the city or a 15-minute walk along the Tamar River's banks, you can easily explore everything in it. More so, there is no entrance fee here and you will absolutely enjoy spending a day in this fascinating urban reserve.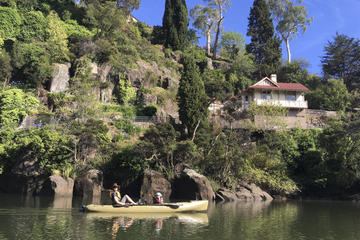 Over time, Launceston has preserved its natural beauty, which is very evident on its popular attractions. Be sure to consider these nature activities mentioned above once you visit the city and you will have an epic journey. So, plan your trip ahead of time and make the most out of your vacation.
Share with your friends